Study at WEST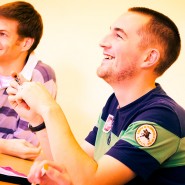 If you are considering a course of study to grow your understanding of God's Word and further your ministry calling, we at WEST believe that there is a course here for you.
We offer a wide variety of programmes at both undergraduate and postgraduate levels. You may choose either on-site or distance learning, with options of full or part-time study. PhD research supervision is also available.
We know that each student has unique needs and the choice of course and place of study has a significant impact on your growth and quality of learning. There is so much to consider – from your own personal circumstances to the specific service that God is calling you to, which type of course is most suitable, what campus life is like and much more – which direction do you take?
Our experienced team are here to help make those decisions easier for you. From the moment you make an enquiry, each will help you make informed, prayerfully considered decisions, to help you make the right choices for your future.
Find out more from our courses here