MTh Theology in Scriptural Context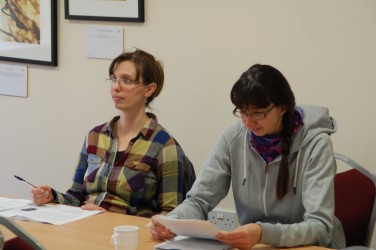 The MTh Theology in Scriptural Context offers the opportunity both to explore and to reflect critically upon the doctrine of Scripture and other aspects of theology within an evangelical and reformed theological context. The programme could serve as an excellent preparation for further academic theological study by research, but it will have a wider appeal, for example to pastors who wish to have an academic and stimulating challenge to think biblically and explore the interface between Scripture and a range of issues. The next entry point for both full-time and part-time study is August 2014. Applications should be submitted by June 24th, 2014.
Admission Requirements
Normally, applicants should have an upper second class honours degree in a discipline relevant to the subject area. Applicants may also be admitted who have achieved an aggregate of 50% in the WEST Graduate Diploma in Theology. Alternatively, admission on the basis of experience in a responsible role relevant to the programme may be permitted, if the applicant is deemed capable of meeting the demands of the programme. This experience must be of at least two years' duration and should normally have been in a full-time position. International applicants should also note the English language admission requirements which may found by following this link: http://www.west.org.uk/admissions/ The admission process requires applicants to submit an application form supported by at least two references. All applicants are interviewed, either in person or using telephone or Skype. In the case of applicants applying for entry on the grounds of experience, other appropriate methods may be used in addition.
Programme Structure
PART ONE
Students take Part One modules totalling 120 credits. Part One modules are worth 20 credits except for the two Research Methods modules which are worth 10 credits each. The compulsory modules will be delivered every year. However, not all optional modules will be available in each year. The actual modules being delivered in any given year may be found on the teaching schedule by following the link lower on this page. Compulsory Modules
TH7802 The Doctrine of Scripture
TH7821/TH7822 Research Methods
Optional Modules
TH7804 The Development of the Doctrine of the Trinity
TH7805 Scriptural Studies in Christology and Soteriology
TH7806 Creation and Ecology
TH7808 Biblical Law
TH7823 Biblical Theology
TH7824Reformed Spirituality
TH7825 The Theology of the Early Church Fathers
PART TWO 15,000 word dissertation, which is worth 60 credits An overview of the MTh modules can be found here.
Assessments
All modules are written, taught and marked by WEST lecturers. The University of Chester appoints an external examiner, in liaison with WEST, who moderates all assessments. All modules are assessed by means of coursework. A 15,000-word dissertation completes the programme. Coursework assessment papers are given to students in the relevant teaching week and are usually submitted 6 – 8 weeks later. The deadlines always fall before the next set of teaching weeks.
Awards
The attainment of the award of MTh is achieved with 180 credits. However, it is also possible for students to terminate their studies having completed a total of 60 credits from Part One to achieve a Postgraduate Certificate, or, having completed a total of 120 credits (i.e. all of Part One), to achieve a Postgraduate Diploma.
Duration
The MTh programme may be completed in slightly over a year on a full-time basis from the late August/September start date. Full-time students complete the taught modules by June and commence the dissertation immediately for submission in the following October. The MTh may also be completed on a part-time basis taking up to 5 years. Part-time students may enrol to start in August/September or, alternatively, in January.
Teaching Dates and Schedule
Six intensive teaching weeks are scheduled each year. Two weeks follow the late August bank holiday, two are held in early January and two are held in March (the dates of the latter vary according to the timing of Easter). A full-time student will typically need to attend all 6 teaching weeks in order to complete the necessary number of modules in the academic year. The schedule and dates of teaching weeks for 2013/14 is available here as a PDF file for you to download.The schedule and dates of teaching weeks for  2014/15 are available here as a PDF file for you to download.
Programme Cost
Please see tuition fees.
Who to Contact
Rev Iwan Rhys Jones (Director of Taught Postgraduate Studies)
Application Process
Apply for the MTh programme
This programme is validated by the University of Chester.