MPhil and PhD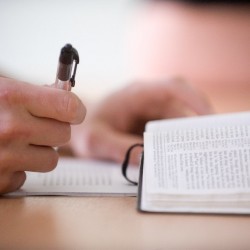 The MPhil and PhD are postgraduate awards achieved following the production of a thesis and its successful defence in an oral examination.
Who are these degrees suitable for?
Research students must have the necessary theological and academic background. Their chosen field of research must be capable of edifying the church worldwide and the School must be able to provide suitable supervisory team.
Subjects covered
Acceptable research topics may cover a range of biblical, theological, historical and applied subjects, provided these fall within the areas of research interest of our supervisors.
Admission requirements
Admission standards are high and normally at least an upper second class honours degree or a lower second class honours plus a masters degree in a relevant subject is a prerequisite for undertaking a masters or doctoral dissertation at WEST.
It is normal for students who want to complete a PhD to enrol firstly on an MPhil and afterwards to upgrade to PhD if their work is of a satisfactory standard. If a prospective student meets certain conditions, in some circumstances they may be exempted from the MPhil probationary period and be permitted to register directly for PhD.
Benefits
Benefits of a research degree at WEST include the ability to study a subject in considerable depth and within a reformed and godly context. There are no taught modules, class or attendance requirements. This means that a PhD can be undertaken at WEST with minimum disruption to any other obligations and regardless of the research student's  location.
Research student seminars
These are held at intervals during the academic year and provide an opportunity for visiting scholars, WEST lecturers and WEST research students to present and discuss their current research. All research students who can are encouraged to be present.
Supervision
Each research student is supervised by two supervisors provided by WEST. One of these supervisors acts as the principal supervisor and the other as a joint supervisor. A Director of Research from the University provides oversight of the supervisory process but is not involved in the supervision of the research.
Assessment: Thesis
Both the MPhil and the PhD are awards achieved by the production of a thesis by research. The maximum length for an MPhil thesis is 60,000 words and for the PhD is 100,000 words.
Programme award success
Since 1993 a large number of WEST students have successfully completed their research for the award of MPhil and PhD degrees. View the full list of award success with details of the research.
Published work from former students
Some examples of the published work of former research students are given below:
Paul E Brown: The Holy Spirit and the Bible: the Spirit's interpreting role in relation to Biblical hermeneutics Fearn, Ross-shire: Christian Focus, 2002
Leonardo De Chirico: Evangelical Theological Perspectives on post-Vatican II Roman Catholicism (Religions and Discourse: 19) Oxford: Peter Lang 2003
Tom Holland: The contours of Pauline theology Fearn, Ross-shire: Christian Focus, 2004
Piotr Lorek: The motif of exile in the Hebrew Bible: an analysis of a basic literary and theological pattern Wroclaw: Ewangelikalna Wysza Szkola Teologiczna, 2006
S Gannon Murphy: Consuming Glory: a classical defense of divine-human relationality against open theism (Wipf and Stock), 2006
Eddy Jose Muskus: The origins and early development of liberation theology in Latin America (Paternoster Biblical & Theological Monographs) Carlisle, Cumbria: Paternoster, 2002
Sebastian R Smolarz: Covenant and the metaphor of divine marriage in Biblical thought: a study with special reference to the book of Revelation: Wipf and Stock, 2010
Matthew D. Aernie. Forensic Language and the Day of the Lord Motif in 2 Thessalonians 1 and the Effects on the Meaning of the Text. Eugene, Oregon: Wipf & Stock, 2011.
Roger Philip Abbott. Sit on our Hands or Stand on our Feet? Exploring a Practical Theology of Major Incident Response for the Evangelical Catholic Christian Community in the UK.  —–, 2013.
Kevin J. Bidwell. "The Church as the image of the Trinity." A Critical Evaluation of Miroslav Volf's Ecclesial Model. ——–, 2011.
Sung Ho Choi. The Messianic Kingship of Jesus: A Study of Christology and Redemptive History in Matthew's Gospel with Special Reference to the "Royal Enthronement" Psalms.  ——, 2011
Wipf & Stock WEST Theological Monograph Series
WEST doctoral students produce cutting edge research in a variety of fields. The fruits of this work are available to wider audiences through the publication of theses as titles within the WEST Theological Monograph Series published by Wipf & Stock.
Programme duration
The MPhil is 1-6 years and the PhD 2-7 years depending on the study mode, part-time or full-time, and whether direct entry to PhD is permitted (see table below).
Time limits
PhD and MPhil students are registered as follows: a period of "fee-payment" and a period of "write-up".
The fee-payment period is the number of years the student will annually be charged at the higher University rate for fees.
The write-up period is extra time that the student is given to finish his/her thesis. Students are charged per term in that period and charges are stopped at the end of the term in which the student has submitted the thesis.
The thesis may not be submitted until six months before the end of the period of fee-payment and must be submitted before the end of the write-up period.
MPhil – Time of study
FULL-TIME
1 year 'fee-payment' period + 3 year write-up
PART-TIME
2 years 'fee-payment' period + 4 years write-up
PhD – Time of study
FULL-TIME
2 years 'fee-payment' period + 2 years write-up
PART-TIME
4 years 'fee-payment' period + 3 years write-up
Available start dates
The University normally offers 3 possible start dates each year: September, January and May. Start dates are dependent on the availability of a relevant supervisory team (see below under 'Pre-application enquiry'). Your initial enquiry to WEST should normally be received at least 6 months in advance of your intended start date.
Programme cost
Please see tuition fees.
Who to contact
Dr Robert Letham
Pre-application enquiry
If you have a serious interest in applying to WEST for research studies the first thing you should do is contact us to make a pre-application enquiry (via telephone or email as listed above). You should state your area of interest (or ask for advice if you are unsure or considering various options) and enquire about the availability of supervision. You should also provide information on how you would meet the entry requirements stated above.
We will then consider your enquiry and let you know whether we consider the proposed project viable in general terms and whether it is one that we would be able and interested to supervise should you apply. If we are potentially able to supervise, we will also inform you of when suitable supervisors would next be available to take on a student. If you would also like us to comment or give advice on your planned research proposal, we are willing to do so, and we may also initiate such a discussion. However, detailed and in-depth discussion for the purpose of shaping a proposal will not normally occur until you have moved to the stage of formal application.
Application process
WEST is willing to receive applications for MPhil/PhD study after the pre-application enquiry process has been completed and we have given approval for an application to be made (please see the section on pre-application enquiry).
If, after you have made a pre-application enquiry, you wish to apply for this programme, please contact WEST via pgadmissions@west.org.uk to request an application pack. An application fee of £300 applies. £250 of this application fee will be credited towards the tuition fees of successful applicants on commencement of the programme. (The fee covers the cost of administration but also of limited advice and assistance given to an applicant in shaping a proposal prior to interview/decision.)
You will be required to enclose original transcripts/certificates of your previous study with your application, showing that you meet the above entry requirements. We may also contact you on receipt of your application to ask for any other information which we feel is relevant. If you have any queries about providing transcripts, please contact us.
Once you have completed you pre-application enquiry you may apply here.
This programme is validated by the University of Chester.