Student Life on Campus
'A desire to know the Bible and the Lord better.' That is our longing for all who study at WEST. Whether you train for the preaching/pastoral ministry, as many do, cross-cultural mission or home evangelism, knowing the Lord and His Word better are essential requirements alongside the academic teaching of Bible related subjects. And, of course, obedience and prayerfulness are part of knowing the Lord better.
Spiritual and character development at WEST
To help students in their spiritual and character development, the School incorporates the following features into the weekly timetable: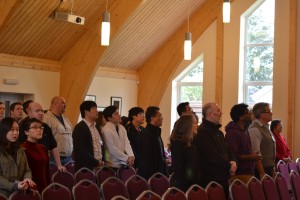 Morning worship: the day begins at 8.30am with a time of worship. Students, staff and/or visiting pastors and missionaries open the Word in turn.  The week begins with a prayer meeting held on Tuesday morning run by students.
Pastoral groups: students are placed in pastoral groups of 7-10. These are led by a lecturer; time is spent in discipling one another, studying the Word, sharing needs and praying.
In addition to a communal lunch and shared coffee-times, WEST staff are readily available to give spiritual and practical support in a private, confidential context.
Church involvement: Throughout training, students at WEST are expected to commit themselves actively to the life and witness of a local church. Students are also encouraged to maintain and develop links with their home churches. Many churches also look to WEST for preachers, assistance in evangelism and youth/children's work.