The Binary Course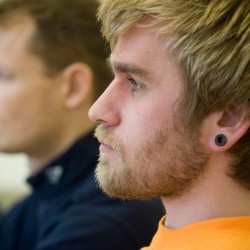 Fast-track Training for Long-haul Ministry
The Binary Course has been devised as a radical alternative to a conventional seminary education. Recognising the complementary strengths of campus and church-based training, The Binary Course not only provides a unique, express route to a Master's degree in theology, but also aims to nurture growth in personal holiness and to develop essential ministry skills.
The Binary Course is designed for those who already possess a good honours degree in a non-theological subject and who can provide clear evidence of potential gifting for a role in pastoral ministry or church planting. It would typically suit those who have come through training programmes like Prepared for Service, Cornhill Training Course or Porterbrook Seminary, or those who have completed a church apprenticeship scheme and are wondering what comes next.
This is just what many church leaders have been crying out for – a route into pastoral ministry that is rigorous yet accessible. If we are going to close the training gap that threatens many independent churches and release an army of new gospel workers to re-evangelise our nation we need this new fast-track approach that will take students where they are and launch them into a lifetime of sustainable service for the Lord Jesus Christ. Richard Underwood, Director for Churches' and Pastors' Support, Fellowship of Independent Evangelical Churches
Why 'The Binary Course'?
We call it 'The Binary Course' because it involves 2 years, 2 bases (campus and contracted training church) and 2 academic awards (Graduate Diploma[GDip] and MA in Contemporary Church Leadership). It has been devised from the ground up in consultation with pastors and church leaders from across the reformed evangelical spectrum.
The first year is campus-based and highly intensive, working towards the 'conversion' qualification of Graduate Diploma. The MA in Contemporary Church Leadership is taken in the second year and involves block teaching at WEST at intervals during the year. Alongside the assessments that flow from the block teaching, a part-time, fully assessed training-church placement – a kind of 'super-apprenticeship'- is undertaken.
The Binary Course is intended to impart the ability to think theologically, to encourage a commitment to lifelong learning, and to provide a kick-start into significant church leadership roles.
Note that the MA Contemporary Church Leadership requires the completion of a dissertation following the second year. This dissertation requires a minimum of three months to complete.
To see an overview of the modules for the GDip click here
Comments from former Binary Course students:
WEST combines high academic standards with practical training for Christian ministry, and all in the context of warm Christian fellowship between students and lecturers. It is a joy to study theology here and The Binary Course is proving a very attractive option. Mike Partridge
If you are looking to be stretched theologically in a way that directly prepares you for church ministry then The Binary Course is for you. It combines the best of academic theology with a great model of reflective learning. I have found this partnership to be an ideal grounding in pastoral ministry. Andrew McKenna
There are undoubtedly some very good seminaries in the UK. But for intensive and thorough theological training, the opportunity for relevant and practical church leadership, and access to some of the warmest and most gifted theological teachers, The Binary Course at WEST clearly sets the standard. Kofi Boafo
Reconstructive surgery if you like! The Binary Course at WEST is fresh, stretching and hugely practical. I've had to ask myself big questions as I rethink and assess how to practise God's Word in his church and world today. This is 2 years worth investing your future in. Paul Daniel
The next entry point for study is September 2015. Please submit your application as early as possible; applications received after 31 July 2015 may be delayed, and you may be required to attend an interview at short notice.
Semester Dates
Welcome Week
For the duration of their programme, all undergraduate campus students are required to attend our Welcome Week, which is held annually in early September, immediately before the beginning of the first semester. All distance learning students must at least attend the first Welcome Week available to them. Welcome Week provides new students with face-to-face guidance on such matters as essay writing, how to use Moodle and other electronic resources, the services of the library, academic regulations and procedures etc. All students are introduced to the modules available to them throughout the academic year ahead. In short, Welcome Week aims to equip you with everything necessary to get you off to a good start in your studies. It is a particularly helpful opportunity for distance learners to meet other students and staff, including their pastoral tutor.
Who to contact
John Kendall (Undergraduate Admissions Tutor)
Application process
To apply for the Binary Course
(The traditional route into pastoral ministry – the three-year BA Hons in Theology followed by the MTh – remains the best option for many, particularly those who are younger and have less academic and/or Christian service experience.)
This GDip is validated by the University of Chester.