BA (Hons) Theology and BD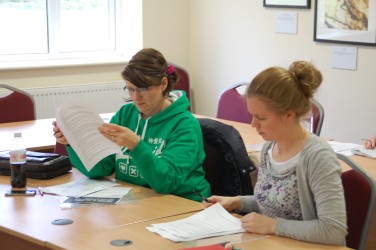 The BA (Hons)/BD  degree programme may be undertaken either on a full-time or part-time basis. Full-time students take 3 years to complete the programme. Part-time students can take up to 7 years.
The programme is divided into 3 stages, referred to as Levels 4, 5 and 6 in keeping with the National Qualifications Framework.
It can be pursued in either of two modes: Campus-Based Learning or Distance Learning. Either mode is available for both full-time and part-time students. The Distance Learning option is ideal for those who are unable to attend classes on Campus.
More information on the BA (Hons) Theology by Distance Learning
The BA and BD programmes are validated by the University of Chester.
Modules may also be studied individually, rather than as part of a full degree course. If you do this you are not bound by the usual rules about progression from one level to the next. You will, of course, participate in the life of the School and get the same quality of instruction as the BA students. At the conclusion of your studies you will receive a statement from WEST detailing which modules you have studied.
Entry requirements
Prospective students should have the equivalent of two 'A' levels along with passes in three other subjects at GCSE. Other qualifications and experience which demonstrate a candidate's suitability will also be acceptable.
Awards
At the end of level 4. Having successfully completed 120 credits (typically 12 modules) – a student may exit with a Certificate of Higher Education in Theology.
At the end of level 5. Having successfully completed a further 120 credits – a student may exit with a Diploma in Higher Education in Theology.
At the end of level 6. Having successfully completed another 120 credits – a student will be awarded either the BA (Hons) in Theology or the BD.
The Bachelor of Divinity (BD) is awarded to a student who has completed a minimum of 60 credits of language modules and has also studied at least one language module in each level. Further details can be obtained by contacting the Programme Leader.
BA (Hons) Theology/BD modules
The BA provides a balance of training across the three 'strands' of Biblical Studies, Doctrinal and Historical Studies, and Applied Studies. The three levels follow a rigorous, comprehensive and logical developmental path.
LEVEL 4
LEVEL 5
LEVEL 6
Within the BA programme, modules may be studied selectively to follow a Intercultural Missions Track or Women's Studies and Ministry track
Assessments
Assessments are marked by lecturers at WEST and checked by an external examiner.
All the modules are written, taught, revised and marked by WEST lecturers and validated by the University of Chester.
What if your Bible knowledge is weak?
Not everyone who enrols for the BA has a strong Bible knowledge so we have devised a simple test for all BA applicants. Those who do not demonstrate a sufficient Bible knowledge are then required to take our Foundation module F01 Bible Overview during their first year of studies. This is a book by book introduction to the content, unity and progressive nature of biblical revelation. Passing the Bible Knowledge Test is a prerequisite for progression to the next levels.
Start Dates and Application
The regular entry point for study is September of each year. Applications for a September start must be submitted by 30th June.
Semester Dates
Welcome Week
For the duration of their programme, all undergraduate campus students are required to attend our Welcome Week, which is held annually in early September, immediately before the beginning of the first semester. All distance learning students must at least attend the first Welcome Week available to them. Welcome Week provides new students with face-to-face guidance on such matters as essay writing, how to use Moodle and other electronic resources, the services of the library, academic regulations and procedures etc. All students are introduced to the modules available to them throughout the academic year ahead. In short, Welcome Week aims to equip you with everything necessary to get you off to a good start in your studies. It is a particularly helpful opportunity for distance learners to meet other students and staff, including their pastoral tutor.
Programme cost
Please see the tuition fees page.
Who to contact
Kerry Orchard (Admission Enquiries Officer)
E: admissionenquiries@west.org.uk
M: 07483332636
Application process
Apply for the BA/BD Programme.